10 Best Fitness Ads Over the Years
Marketing through ads has developed significantly over the years. Fitness companies and brands seem to be in a neverending competition to provide their clients with the most creative and engaging marketing content.
What makes a fitness ad great?
Fitness brands can make use of a variety of persuasive marketing techniques to attract the interest of their audience. More often than not, when analyzing the ads of various brands, we can observe one, two, or all three elements of the 'rhetorical triangle' – ethos, pathos, and logos. Each element can be used to invoke a different appeal between the brand and its audience. T
he first, ethos, appeals to the brand's ethics, or values. It aims to convince the people that the advertiser is an ethical one, and therefore can be trusted. Pathos, on the other hand, appeals to the audience's feelings and emotions. It makes use of emotional content to tug at the audience's heartstrings. And finally, logos tries to convince audiences through logic.
An example of this would be an ad for tennis shoes. The ad could mention how 1 in 3 doctors recommends their shoes for better posture and less back pain. After all, we all want to believe doctors, right?
Adidas
We're all familiar with Nike's famous "Just Do It" motto. After all, Nike has been an established sports brand for many years. In an attempt to compete with them, Adidas decided it needed a face and a motto for its marketing campaign. And who better to use than one of the most famous users of their brand, Muhammad Ali.
The ad presented a picture of Ali and a snippet of one of his more famous quotes "Impossible is not a fact, it's an opinion. Impossible is not a declaration, it's a dare. Impossible is potential, it's temporary. Impossible is nothing." The ad was used in 2006, at the start of the World Cup. And, as it turns out the ad turned out to be one of their most appreciated efforts at marketing by their audience.
Reebok
In 2015, Reebok announced the start of one of its biggest marketing campaigns ever. Entitled "Be More Human," the brand spent a significant amount of money on this.
Reebok was trying to create a distinct identity for itself, that would make the brand stand out against competing businesses, like Nike. "Be More Human" is the pinnacle of Reebok's re-branding campaign. It provided the brand with a clear mission and statement – to redefine how audiences experience physical activity, and to encourage people to reach their potential. This type of marketing appeals to the audience's emotions in a very direct, yet subtle way. After all, we all want to 'be more human.'
Blink Fitness
Many fitness ads present perfectly sculpted bodies of athletes that spent countless hours, days, and even years getting there. Many times, this can be counterintuitive for the brand's audience, as some may feel that since they will never reach that level, they might as well not try at all. This is why Blink Fitness chose to go a different route with its marketing. In 2017, the fitness chain came out with an ad that displayed individuals of different sizes and ages, adding the appealing tagline "We're members, not models." This approach can be more appealing to your everyday individual, who wants to get in shape but may not have the time or resources to invest in their physical activity as much as athletes. The ad encourages the brand's audience to start attending their gym, and get fit at their own pace. After all, everyone is different. We can't all be models,nor do we want to. The ad also mentions that the gym's services are "as low as $15 a month," affordable enough to make 'every body happy.'
Another intelligently designed ad from Blink Fitness uses the taglines "Every body deserves to be happy" and "Where feeling good is the new looking good" to point out that getting and staying fit is more than just losing weight. Sure, losing weight can be a good thing. But the ad makes the point that an active lifestyle matters more than just 'looking good.' Physical exercise helps boost one's self-esteem, increasing endorphins and helping you feel like you have achieved something good for yourself. The ad also mentions the price for a monthly subscription at a Blink Fitness gym, making it appealing to everyday working people, who don't sleep on a bed of money at night.
World Gym
In one of their ads, World Gym made use of some light humor to get its message across. The brand came up with an ad displaying a baited sofa set up as a trap, under which there is a video game controller, and the tag line "Run away." The brand got its message across in a humorous, yet direct manner.
Obesity is on the rise, with many individuals spending countless hours in front of a screen every day. Through its ad, World Gym attempts to appeal to its audiences emotions and logic, urging people not to fall into the trap of spending most or all of their free time on the couch, in front of a screen. 
WW
In 2018, WW (formerly known as Weight Watchers) rebranded itself with an ad containing the tagline "Every body has a reason to get healthy." Since rebranding itself, WW has tried to make it clear to audiences that its new goal goes beyond helping people lose weight. Now, its goal is to help people live healthy lives. This means eating healthier, working out regularly, getting in shape, and starting and maintaining a healthier lifestyle.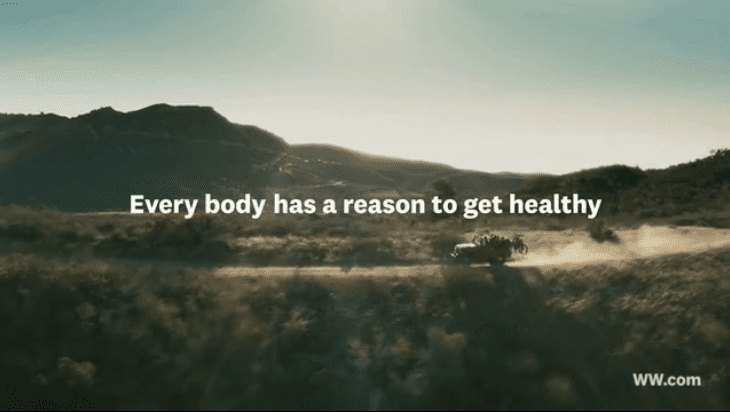 Though Weight Watchers had been well known and appreciated for many years, its ambassadors decided to rebrand, in an attempt to stay a step ahead of the competition. Society has changed its focus from losing weight to look good to losing weight, staying active, and eating properly to maintain a healthy lifestyle. And WW has done the same.
Nike
 At the 2019 Oscars, Nike outdid itself with an ad depicting only female athletes. Entitled "Dream Crazier," the ad was created as a take on the negative labels that many female athletes are faced with, specifically that of being 'crazy' for choosing to start a career in sports. With Serena Williams as the narrator, the ad's powerful message undeniably appealed to the audience's emotions. The as begins with the narrator saying  "If we show emotion, we're called dramatic. If we want to play against men, we're nuts. And if we dream of equal opportunity, we're delusional. When we stand for something, we're unhinged. When we're too good, there's something wrong with us. And if we get angry, we're hysterical, irrational, or just being crazy."
Including its iconic "Just Do It" motto, Nike appealed to the audience's logic just as much as to its emotions. After all, the ad conveys two very evident messages – Dream Crazier. Just Do It. A day after it launched, the ad had over 4 million views on YouTube, which makes is safe to say that Nike's message was well-received by many.
Y+ Yoga Center
Situated in Shanghai, China, Y+ Yoga Center delighted audiences with a series of ads that were witty and to-the-point. The brand wanted to make itself known to the increasing number of Shanghai urbanites who are trying to focus more on maintaining a healthy lifestyle. And it managed to do just that, at a relatively low cost.
The ad displays a clock whose hands were replaced with the upper and lower half of a yoga practitioner's body. The low-cost, yet effective ad managed to display a yoga practitioner's flexibility. Though it didn't outright say it, the ad's hidden message of "this is what you can do if you come to our classes" is pretty obvious. Talk about smart marketing.
Crunch Fitness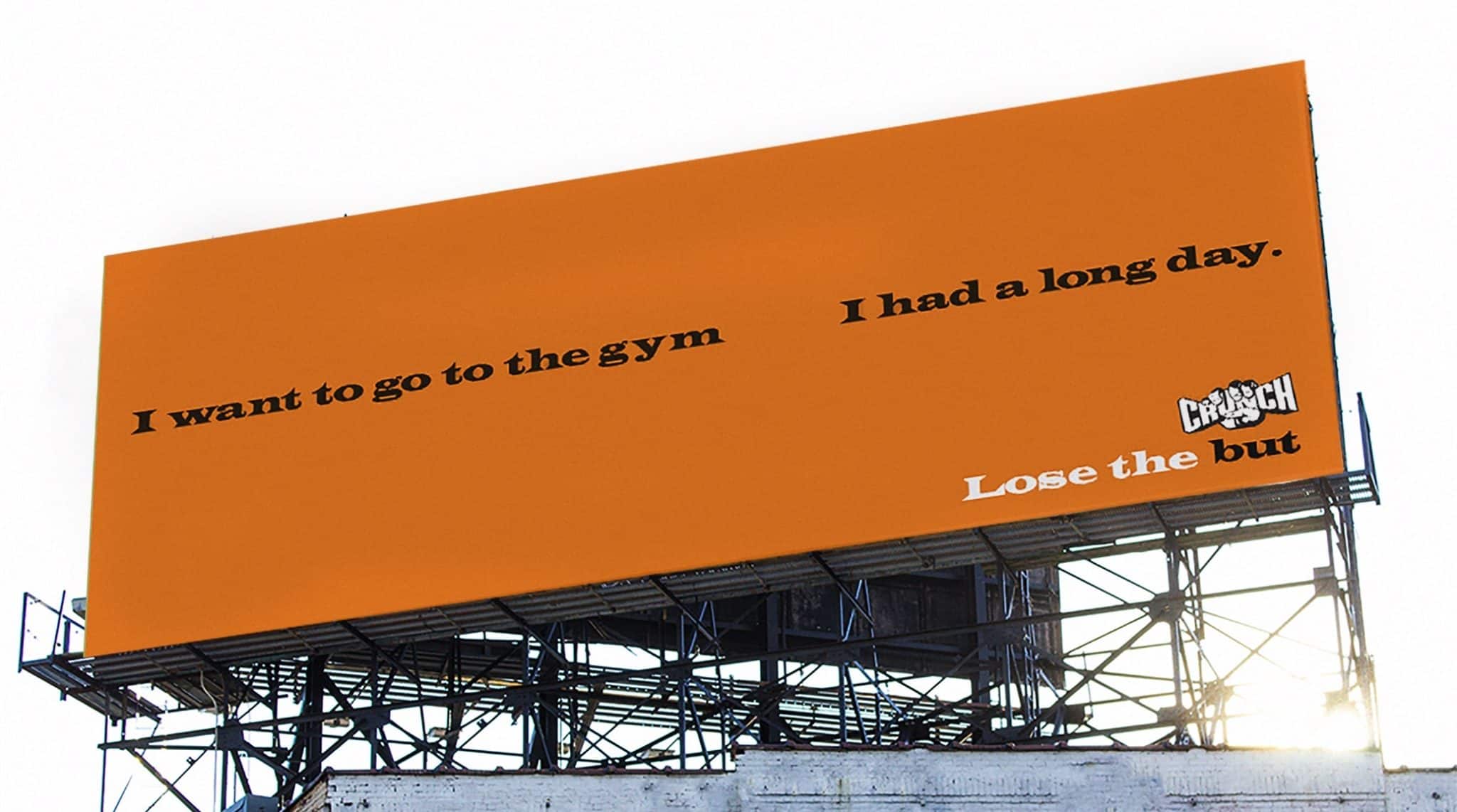 Cruch Fitness encourages audiences to lose the "but" when considering going to the gym. The ad encourages people to separate the reasons why you want and should go to the gym, to the other things happening in life. In other words, sometimes the reasons why you'd much rather prefer to skip going to the gym may very well be the reasons you should. Had a hard day? Blow off some steam at the gym.
Powerhouse Gym
Powerhouse Gym came out with an ingenious marketing strategy, incorporating their as in a construction site. The bodybuilder depicted is doing Cable Flys on a double craned site, making it seem as if he is lifting all that weight himself.
If we want to take it a step further, it could be safe to say that the ad had a bit of hidden meaning. Just as the building is under construction to become better, so is the bodybuilder working on himself to become more fit and healthy. Whether the brand intended for this hidden meaning is unknown, but it makes for an interesting interpretation of the clever ad.
Closing Thoughts
If you are a wellness entrepreneur, these ads may have inspired you to develop or change your marketing strategy. Making use of the 'rhetorical triangle' can be very useful in marketing for any type of fitness-related business. Appealing to the audience's logic, emotions, and personal values can help convey a message that is worth hearing, and will be remembered. If your fitness ad is helping people want to be better, and do better, you're headed in the right direction.
But what about the other parts of running a business?  Easily downloadable on IoS and Android devices, and scoring 5.0 on the AppStore and 4.8 on GooglePlay, Persona is a platform designed to help fitness, beauty and wellness professionals like yourself simplify the day-to-day of running a business. Collecting payments, scheduling meeting with clients, managing your expenses – Persona does it all, and much more. The app, which is 100% free, always does your taxes for you, while helping you save money in the process. And at no point will you have to pay any fees of any kind!