How to Become a Licensed Tattoo Artist
So, you've decided that you want to become a licensed tattoo artist. Maybe it's because you're always been fascinated with the backstories of some people's tattoos. Or maybe the idea of creating a permanent work of art on someone's skin fascinates you. Or, maybe you've just always enjoyed drawing and would love to try your hand at this new career field. Whatever your reasons are, before embarking on this journey, you need a solid, yet adaptable plan.
If you're serious about going down this path, there are a few things you need to keep in mind:
The job entails sitting down. A lot. Throughout your career, you will have more than a few clients requesting complicated pieces that will take a considerable amount of time to make
You will need to have lots of patience and tact. Not all clients will be friendly or in a good mood. Since you'll be close to them for at least an hour at a time, you need to know how to manage these types of situations. 
You will have many times when you'll have to work evenings and weekends. 
Your location affects your clientele. It's essential to work in an area with good traffic and little to no competition.
You may also like: tattoo styles a tattoo artist must know
Becoming a Licensed Tattoo Artist – Draw as Much as You Can
Start by practicing in a sketchbook. Draw the things you see, imagine, or even dream. Use the world around you for inspiration. And don't be afraid to use the works of other artists as inspiration. Just make sure to give it a personal touch, and make it yours.
Since your work as a tattoo artist will be all about creating pieces that fit your client's vision, ask the people around you for ideas. If they were to get a tattoo, what would they like? Try your hand at creating what they described, then consult with them. Did you manage to create what they had in mind? Ask them for constructive criticism and advice on how to do better in the future. Then try that same design again, and consult with them once again. You may be surprised to see what you've learned in the process, and how you've advanced.
Another good way to practice is by tracing simple tattoos onto paper. Many tattoo artists have started with tracing since this is good training in steadying your hand. After all, your focus is getting prepared to transfer that design onto your client's skin. Though this is a great way to practice, keep in mind that any work you add to your portfolio needs to be original. So, maybe keep these to yourself. 
You may also like: how to become a makeup artist?
Practice on fruit or practice skin
Your talent in drawing led you to choose this field in the first place. But tattooing on people is very different than drawing on paper, or any other medium, for that matter. That's why it's essential to try your hand at practicing on mediums that resemble human skin. For example, many apprentices have started their careers by practicing various types of fruit, the most popular ones being grapefruit, oranges, and bananas.
Other good alternatives are pigskin or 'practice skin.' You can buy the latter on various online stores for relatively cheap if pigskin doesn't appeal to you.
Though you will notice the evident difference between these and human skin, practicing on fruit, pigskin, or 'practice skin' is a great place to start.
Explore different styles
If you feel like you haven't yet found your niche within this field, try your hand at several styles. Fine art, contemporary, or abstract. Flowers, dragons, or calligraphy. Black-and-white, or in color. You can explore many styles, and you might even feel like you're pretty good in most of them. But greatness is what you should be striving for.
Identify the techniques in which you are better, and focus on those. Once you become a licensed tattoo artist, it's essential to promote the best pieces in your portfolio. After all, prospective clients are looking for an artist to put their vision into practice. So before you go too far down the route of tattoo artistry, make sure to identify your niche within this field.
Get the necessary education
Requirements vary between counties and states, but most will require at least a high school diploma and an apprenticeship or classes at a certified tattoo school, which will lead you to acquire your certification. Do your research. What are the specific requirements in your area?
If your state or county asks for classroom experience, your next step should be enrolling in a tattoo school. Tattoo school courses will help you develop your skills and teach you the tricks of the trade. You will attend seminars on disease prevention, skin diseases, and infections and receive training to prevent blood-borne pathogens. You will also participate in classes where you will have the chance to practice your hand at tattooing real people under direct supervision.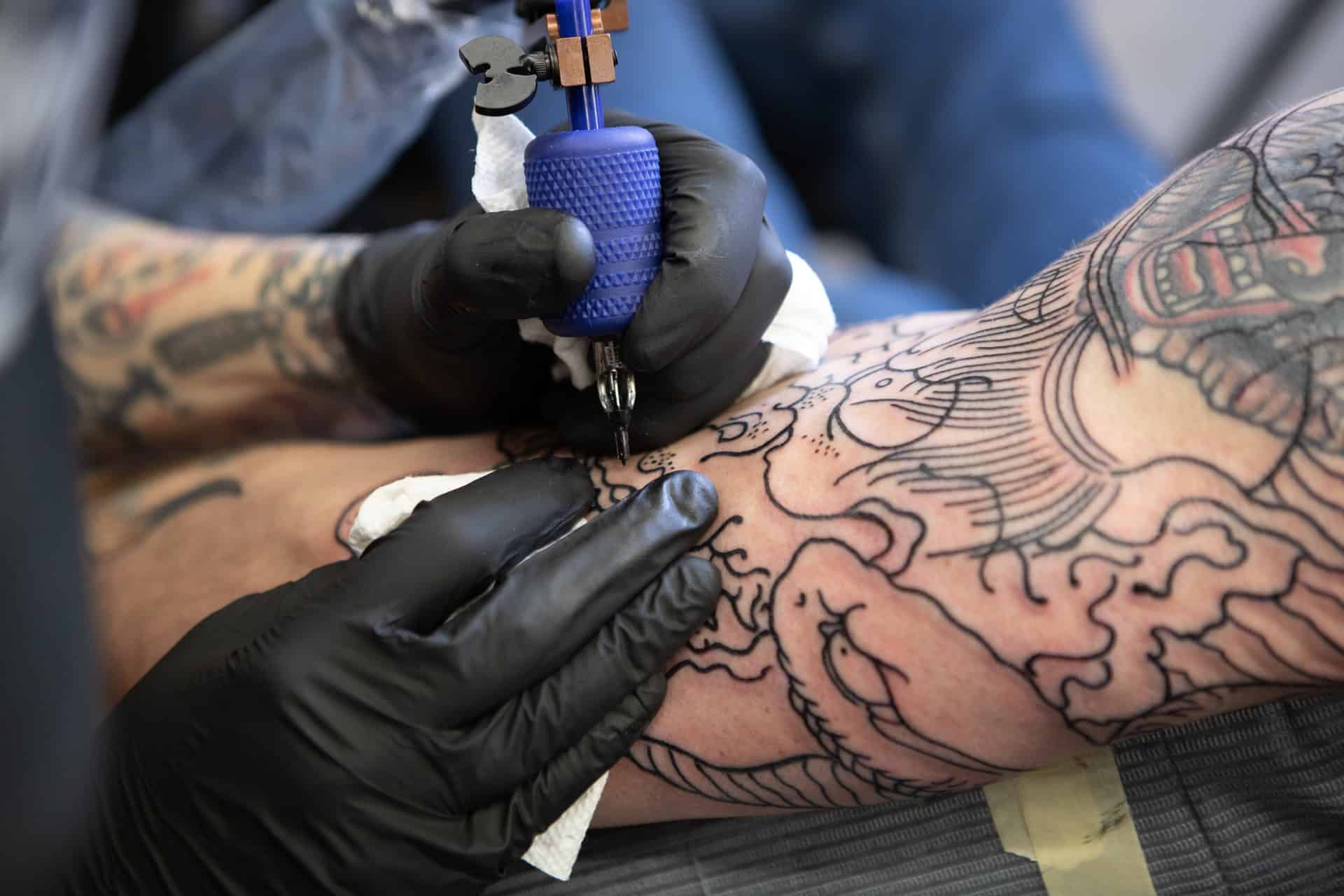 You will receive a tattoo certificate at the end of your courses, thus getting one step closer to acquiring your license.
Build a professional portfolio
As an aspiring tattoo artist, it's essential to have a well-built portfolio before applying for an apprenticeship. This tool allows prospective mentors to get a feel for your skill and style and decide if you are what they're looking for in an apprentice.
Include between 25 to 200 of your best drawings and tattoo designs.
Make sure to showcase your versatility as an artist. For example, if you feel more comfortable creating drawings in grey, make it a point to include at least several in color. Also, keep in mind that artists will seek originality if they take you on as an apprentice. Since most of your future clients are likely to ask for a personalized design, it's crucial to prove that you can give a personal touch to each of your pieces.
Aside from drawings, your portfolio should include a resume and a cover letter. In your resume, present your education and experience. If you have no formal experience as a tattoo artist, your resume should focus on your education and desire to learn this trade. When writing your cover letter, describe your education and relevant experience and clarify how passionate you are about this work.
Complete an apprenticeship
An apprenticeship can provide you with the skills required to become a successful tattoo artist. Contact local tattoo shops around you and apply for an apprentice position. Once you've secured an apprenticeship, you will learn proper sanitation, disposal, and infection prevention procedures. You will have several direct observation hours, in addition to more hands-on responsibilities, such as the cleaning and preparing of a workstation. During the apprenticeship, you'll have the opportunity to learn how to design tattoos and operate a tattoo gun. Additionally, some apprenticeships may also offer lessons on the business aspects of running a tattoo shop, to those students who plan on opening their own business in the future.
Though the length of an apprenticeship can vary from place to place, the Alliance of Professional Tattooists recommends an apprenticeship that lasts at least three years. The artist will more than likely ask you to do many drawings throughout those months to get a feel for your skills and experience.
Get your license
Now that you've completed your education, build a portfolio, and acquired formal experience, it's time to get officially licensed. Once you acquire your license, you are officially a tattoo artist on the path to becoming a successful tattoo artist.
The requirements vary from state to state, but more than likely what you should expect is a written exam, and skills assessment. Once again, do your research and see specifically what your state asks of you in order to get licensed. Follow those steps, and enjoy your new title of Certified Tattoo Artist.
Promote yourself
So you followed all the steps and managed to get your tattoo license. Now what?
Your next step should be acquiring clients. Regardless of whether you're an employee in someone else's salon, or have decided to start your own business, it's safe to say that having a solid client base is crucial. And in the era of technology, the easiest way to make yourself known and get new clients is through social media. Post your drawings and designs, and tattoos that you've done so far. Turn your social media accounts into 'virtual portfolios.'
Post regularly, and make sure that your pictures and videos are of good quality. Make daily stories, and post your contact info in your accounts' descriptions. Research other tattoo artists, follow their pages, and make it a point to like and comment on their posts.
How Persona Can Help
If you're considering opening up your own parlor, the tattoo part of the business is all on you. You are responsible for going through all the steps to get certified then forming your client base. You are the one who's going to be spending hours on end on one tattoo because you want it to be perfect for your client. You are the one following your dream.
But there's another part of the business that you'd much rather not have to deal with. The part that requires doing taxes and managing your budget. Or dealing with deductibles and business analytics. You're an artist. This isn't what you signed up for.
Enter Persona. Persona was designed to help self-employed professionals such as yourself manage their businesses as smoothly and efficiently as possible. The platform helps with payment collection, client scheduling, and expense management (amongst other things) for free. At no point will you be charged any fee whatsoever. The best part is that Persona does your taxes for you. And since everyone hates doing taxes, it's safe to say the Persona is the right choice.