How to Become a Tennis Instructor
You're probably here because you're wondering how to become a tennis instructor but before we can get into that, a quick intro:

There are many different passions a person might have in life, and they most likely have them for various reasons. It doesn't matter what passions they have, or why they have these passions, it's interesting to watch people discover their passions and see what they want to do with them. One of the biggest life passions a person might have is exercise.
Exercise comes in many forms. Some are just looking for results and changes, such as working out with weights and machines. Or a person might want to exercise to become healthier, which can be shown in many ways. A third reason why a person might want to exercise is for fun. This can take place in anything like a sport, such as tennis.
So, say you love tennis and want to share it with the world. You have been to countless tennis matches, got as many friends to come along and play with you, but that is not enough. What is next? Probably to become a tennis instructor so you can share your passion with the world, and you teach it to other people. But there is work involved. What do you need to do? How do you become a tennis instructor?
How Can I Become a Tennis Instructor, and What Do They Actually Do?
You might know what a tennis instructor does, especially if you are looking to pursue that career. But you might not know what it all entails. Tennis instructors are coaches that help improve a player's game. They can teach at different levels. Some work at the beginner level where they are just teaching the fundamentals of tennis. Some instructors are at the top level where they work individually with professional players.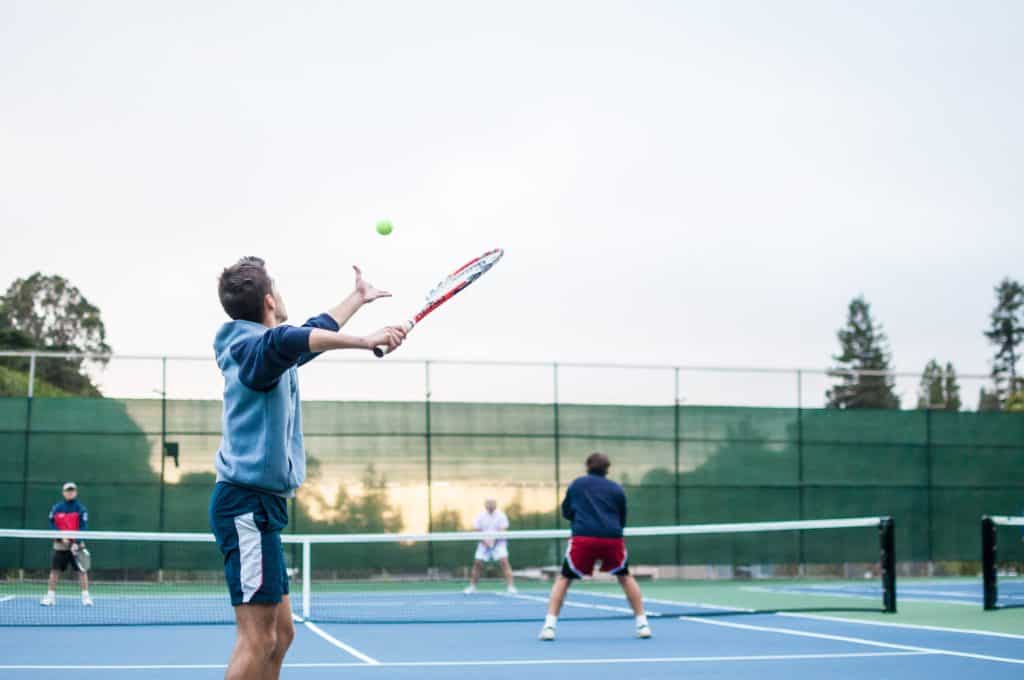 Tennis instructors can teach an entire team, groups of people or they might want to teach people individually. When teaching, tennis instructors, also known as coaches, evaluate a player's game to see their strengths and weaknesses and figure out ways to improve their game.
You can become an instructor that travels around to your matches and tournaments. You don't have to stay locally, you can travel and have fun with it. Matches can happen in any weather, it doesn't matter if it is cold or rainy. Tennis matches and practice can still happen. Instructions can occur on weekends, and can also occur in the evening. Traditionally, busy sports seasons can have long hours, and workweeks might be over 40 hours in length. Although tennis instructions might be fun, they can take up a lot of your time.
Basic Career Requirements for a Tennis Instructor Career
Not only does a tennis instructor take up quite a bit of your time, but there are also requirements needed to even start. You need to have experience, skills, and some certifications need to be achieved. We've even heard of some tennis instructors getting personal trainer certifications. You might be asking yourself what else is needed. How do you become a tennis instructor?
Such as any other career, tennis instructors need to have experience in tennis. According to the BLS, the United States Bureau of Labor Statistics states that any athletic coach or instructor needs to have an intense and immense amount of hands-on experience. A person could have grown up playing tennis as their choice of hobby or a sport. Or they could have played it in grade school gym class. If a person plays, that is all that matters.
Tennis instructors need to have key skills. They need to know the basics such as the 6 fundamental movements, also known as strokes. These include services, forehand groundstroke, backhand groundstroke, forehand volley, backhand volley, and the overhead smash. Other skills tennis instructors need are strong communication skills and being able to assess a player's game.
Schooling and Certifications
There are some schooling and certifications that need to complete as well. However, certification is not always a requirement for becoming a tennis instructor. Some private clubs and organizations tend to prefer hiring certified professionals. The two certifying associations in the United States are Professional Tennis Registry and the United States Professional Tennis Association.
One thing to consider that might help you put in the future with your tennis instructor career is obtaining a bachelor's degree. A bachelor's degree can be a prerequisite for an instructor that wants to teach at the high school or a college level. There are a variety of things this degree can be. Some popular options can be education, physical education, or something that relates to fitness or a physiology major.
Benefits of Becoming a Certified Tennis Coach
Although you don't need to get certification to be a tennis instructor; there are benefits to doing it. As mentioned above, some private organizations prefer to hire certified tennis instructors. Or degrees to help you improve your job prospects by getting the opportunity to work in schools.
Other benefits include workshops that work on experiential learning for continued growth. There are apprenticeship programs to earn money while you expand your education. You can also have job placement services that will jumpstart your career.
Creating Your Business
Once you completed all the certifications and schooling you need to do and what you wanted to do, then what do you do? What about if you want to create your own business? Maybe run your own private tennis instruction business? So, how do you become a tennis instructor?
The first thing you need to do to run your business is to continue your experience and start getting out in the world. You can do this by taking coach jobs at tennis clubs near you. While you're here, you can spread the word about your business. One of the best places to get the word out because you know these people love tennis, they could use some more experience.
Once you get the word out and have people interested in you and your business, you have to make a place where they can access and learn more about you. Three places would be amazing to have for this. One could be creating fliers and hanging them up at your local tennis clubs, at outdoor tennis courts, or maybe even schools.
A second way to spread the word is to get a location to work. However, becoming a professional tennis instructor is different in terms of having a spot for a business. So, you might create your space at the local tennis clubs. The third way to spread the word about your business is by creating a website.
Website Necessities
There is no specific way to create your website it all depends on how you want to make it look. However, one thing to keep in mind is to have it look similar to other instructors in your area. See what their approach is, look at their strengths and weaknesses. And then, try to come up with ways to have your business and services stand out.
Your website needs to have all the information about your business. It will have your name and the name of the business. There will also be a place that shares your experience, such as how often and where you played tennis. Schooling and certifications are also good to put on your website. That way clients can see the qualifications you have with tennis.
Other important things to put on your website include ways for clients to meet up with you and have a place for them to prepay before the meeting. That way you don't have to have long phone calls back and forth trying to see what appointment time works best for them. And then you don't have to have the awkward moment about requesting money after they get done working out.
The Persona App is Your Best Helper
Some things need to be posted on your website, and it takes a lot of time and energy to create it all. Creating your website takes away time that could be spent out with clients and ways to find more clients. That is why we created our platform. We are here to make sure you have enough time to both train and motivate your clients for success as a trainer.
We have a feature called Hassle-Free Scheduling that eliminates the lengthy back-and-forth calls with your clients. They can book themselves in pre-approved timeslots. Persona is also the perfect tool to assist you with payment collection as a trainer, as well as send reminders, track invoices, and session package usage, all in our easy-to-use app. 
We also will manage your money for you. We have Expense Management where we will save you hundreds of dollars by allowing you to easily track deductible expenses when come tax sessions. When that time happens, we will automatically generate your schedule c/1040, meaning it's one less thing to worry about.
You will also have a business account. In this, you can enjoy features of your traditional bank account and more. Plus, your money is fully FDIC insured. You can sleep well knowing your money is 100% free.
We won't be taking any money from you. Our app, Persona, is 100% free, and we're the #1 business and financial management platform for wellness professionals. You can download our app, which is humbly one of the best apps for trainers, today in the App Store or Google Play.